Who was "James Miranda Steuart Barry"?
questions on a name and the agenda of myth making
Warning: this article includes in-depth analysis of some of the language used after Barry's death to feminize him and depict him as a cisgender woman. I have tried to discuss these topics while also adhering to the name and pronouns Barry chose and used for himself as best I can but this topic, by its nature, runs counter to that.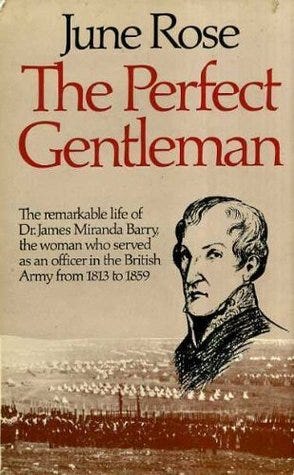 Generally, according to most modern secondary sources, Dr. James Barry is credited as having the full name of James Miranda Barry or sometimes James Miranda Steuart Barry. These two middle names were taken from his two benefactors who supported him financially as a young man and to who Barry dedicated his medical thesis; Francisco de Miranda, and David Steuart Erskine, 11th Earl of Buchan.
The issue was that after a while of reading Barry's original writing I began to notice that Barry never signed his letters as James Miranda Steuart Barry or James Miranda Barry or James M. Barry or any other combination I could think of. He only ever signed his name James Barry, Dr. James Barry or James Barry, MD.
So I began to systematically search for any mention of a middle name in the primary source record. He did not use the middle name Miranda or any other middle name on his medical thesis. James Barry was the only name used on his official military commission. All of his letters from his time in the Cape Colony are signed James Barry or Dr. James Barry.
His personal correspondence is signed by James Barry, it is also addressed to James Barry, with no middle name used. All of his court testimony labels him only as Dr. James Barry. The articles and other writings he penned later in his life were all written under the name Dr. James Barry. Even his gravestone lists his name as Dr. James Barry.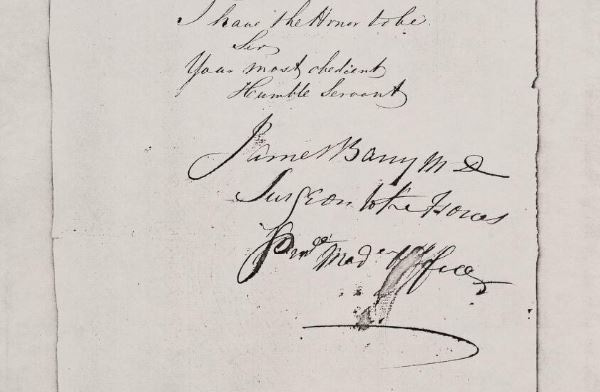 No use of the name Miranda in sight.
At this point, I had exhausted every source I had access to written either by Barry or during his lifetime and none of them used the middle name, Miranda or Steuart. This, of course, brought up the question if Barry never used either the name Miranda or Steuart then where did they come from?   
Crediting Barry as having the middle name 'Miranda' in particular is very common. It turns up in all sorts of articles about him, in people's tweets, in many of the books, both fictional and otherwise, that have been written about him. Some people credit Miranda as being his deadname or use it as such even though it is not the name Barry was given at birth.
Modern writers like using Miranda for Barry because a modern audience is unlikely to connect it to the surname de Miranda and more likely to read it as a feminine given name. Using it for Barry, especially directly after James, emphasizes these authors's and their audience's assumption that Barry was a cisgender woman who's 'cross-dressing' or 'male persona' was only ever the flimsiest of disguises over Barry's true self. How could it not be if the proof of his 'true gender' was right there in his name all along?
Barry's middle name being a feminine sounding one gives credence to second wave feminist argument many modern author's still endorse that Barry was a cisgender woman forced by the patriarchy into a male role he did not identify with. Thus crediting him with having taken the name Miranda becomes proof that Barry was desperately trying to cling to some form of the femininity that had been denied him. It becomes an is an easy way of misgendering and deadnaming him without actually having to do either.    

Wikipedia, like many sources, gives Barry's official names as being James Miranda Steuart Barry and cites James Barry: A Woman Ahead of Her Time by Michael du Preez and Jeremy Dronfield as their source. Going to the cited page (pg 218) in du Preez and Dronfield's book however leads to the following line: "He began to elaborate his name, calling himself James Miranda Steuart Barry, discreetly acknowledging his debt to his two early patrons, and allowing those who knew the family names of the Earl of Buchan infer some connection." Dronfield and du Preez do not discuss a historical source in this passage nor do they cite any source at all for this line.
Because of this lack of citation I can only assume they creatively inferred this statement or perhaps lifted it from an earlier biography without citing or fact-checking it in order to fit their casting of Barry as unpredictable and often duplicitous. Portraying Barry like this is important to du Preez and Dronfield because it plays into two gendered assumptions; that women are biologically inclined to be too emotionally unruly and that gender non-conforming and trans people are by nature duplicitous, which underpins the book and du Preez and Dronfield's entire narrative argument.      
If I wanted to give them the benefit of the doubt I could assume it was taken from the source cited in the paragraph above and below this passage, which is "The Reputed Female Army Surgeon" by Edward Bradford published as a letter to the editor in the Medical Times and Gazette in 1865 only a few months after Barry's death.
Tracking down a copy of "The Reputed Female Army Surgeon" by Edward Bradford reveals that while Bradford makes many other false claims about Barry's life he does not use the name James Miranda Steuart Barry or James Miranda Barry even once.
Edward Bradford's letter in the Medical Times and Gazette was one of many articles and letters that were written directly following Barry's death and his outing to the papers and public at large. Most were written by people who had known Barry at various points in his life with the very obvious intention of saving face by claiming that they had "always known" about Barry's 'true identity' mostly by feminizing and infantilizing him as much as possible. It is in these letters that we can see Barry as the dedicated and brilliant, if often deeply polarizing, soldier and medical reformer stripped away and the myth of Barry as the cross-dressing oddity who could never truly pass as a man being created in its place. Barry as Miranda, however, was not yet part of the mythology.    
Looking at another source about Barry written in the 19th century, "A Female Member of the Army Medical Staff" published in 1895 in The Lancet, gives us, once again, a highly inaccurate account of Barry's life published thirty years after his death but it also lists his name as James Barry without the use of Miranda.
Originally I had hypothesized that the name Miranda came out of late 19th century and the myth building and (forced) feminization of Barry that had started directly after his death. The more late 19th century accounts of Barry's life I read though the more I began to think that wasn't true. I began to suspect that this particular piece of misinformation about Barry had come from 20th-century writers.
I reached out to Ann Heilmann who literally wrote the book (Neo-/Victorian Biographilia and James Miranda Barry: A Study in Transgender and Transgenre) on the myth building around Barry's life. She confirmed that the earliest use of the name 'Miranda' as a middle name for Dr. James Barry that she'd come across was in the biography of Barry; The Perfect Gentleman: the remarkable life of Dr. James Miranda Barry, the woman who served as an officer in the British Army from 1813-1859 by June Rose published in 1977.
Heilmann reads the use of the name 'Miranda' by Rose (who collected a great deal of James Barry's correspondence and no doubt knew he never used the name himself) as a wink at a modern cisgender audience. As Heilmann pointed out to me 'Miranda' is not just a name taken from Francisco de Miranda it is also a literary allusion to Shakespeare's The Tempest with its narrative of illusions and transformations.
If the use of Miranda for Barry did come out of this time period though it would also be very much tied with the second wave feminist project of linking Barry to woman's history and the process of claiming him as a 'feminist heroine' a path many of the writers that came after 1977 followed. If this is true then it would seem that the use of Miranda for Barry has always functioned in Rose's work, as it functions today, as a way for modern readers and writers to link Barry to a womanhood he never linked himself to and view the name he actually used 'James Barry' as a lie they have given themselves permission to disregard.  
But, at the end of the day, it is the fiction where Dr. James Barry, the name Barry actually chose for himself and used his entire adult life, is not.      
_____________________
Sources used: